Monday, November 27, 2006
Quickpost grab-bag
OmegaGranny spent the weekend with us. She and I curled up with books and lazed about, and it was wonderful & cozy & comfy.
I ignored the blog. Bad, bad OmegaMom!
We're supposed to have some snow in the next few days. Har. We had a flurry this afternoon, and I wisted after it. Folks in Seattle are getting big snow; we haven't had any. In an "average" year, we'd have had up to 15 inches of snow by now. Bah.
I have a new 'puter at work, woohoo! I have two monitors, driving Mr. OmegaDad insane with envy. The big new screen requires a very high resolution. This has led to me leaning forward in my office chair and squinting at the screen. Hmmm. Aside from that, the new 'puter is a screamer. Verra nice.
I went on an eBay binge this past few weeks; aside from the enamelware saute set that is (sob!) no longer a surprise for OmegaDad, I have been buying fluffy ballet things to put into a dress-up chest for OmegaDotter. They are not all pink and purple. Hah. (OmegaDotter has been assimilated--she looks at colors and tells me, "That's a boy color" or "He can't wear pink, that's a girl color!". Ugh.)
At the end of this eBay binge, for some reason I was searching on Chinese woman paintings, and found this: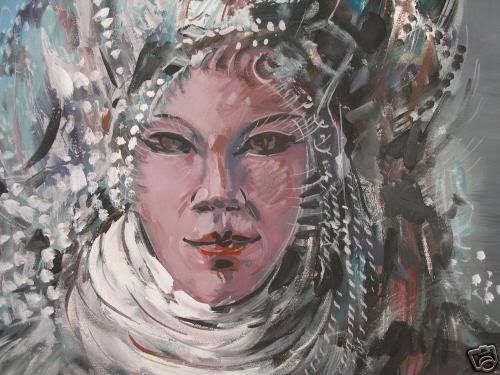 Well, actually, this: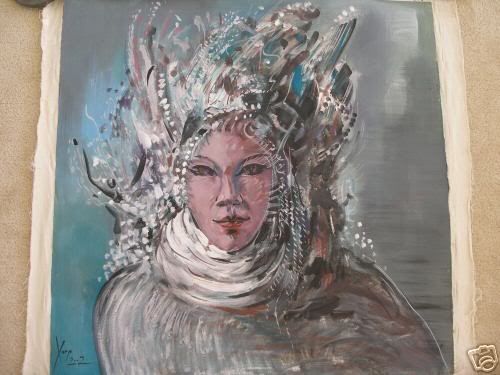 And...um...bought it. It was part of an art collector's estate, and some unnamed, non-famous European artist, so I got it for $25. Um. I just really liked it. It made me think of the cover art to Joan Vinge's "Snow Queen". Kind of.
So my question is: Since I really like the cropped version, would it be just too horrible of me to (shhhhh!) have it cut so that a little matting would make it look like that cropped version? Or is there a way to...um...roll the excess canvas and do the same? Because if I had it cut, the artist's signature would go poof. And some far-future descendant might actually like the whole pic, rather than the artsy cropping. Hmmm. Any artist types out there who could give me advice?
The same auction had an imitation John Nieto for $15; if it had been a better imitation, I would have sprung for that, too.
eBay is an evil, evil place.
In the meantime, I'm chewing on the questions/advice vis-a-vis another adoption, and will post more about the whole shebang later.
Now, I go respond to some comments.
posted by Kate @ 11/27/2006 08:51:00 PM

4 Comments:
Post a Comment
<< Home