Thursday, December 07, 2006
A puppet, a princess, a pawn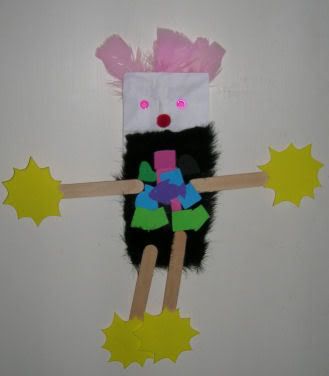 At OmegaDotter's school, Miss Melody introduced the kids to Ima Hillbilly, her handmade puppet used to read stories to the children and draw them into the stories.
Then, Miss Melody had the kids make their own story-telling puppets, using whatever they wanted to decorate them.
This beautiful girl is the result.
Her hair is pink feathers. Her hands and feet are bright yellow felt starbursts. Her body is black fur. Her eyes are pink buttons. And in the midst of the abdominal decor is a fish--no doubt just eaten.
Beautiful Girl's arms wave delightfully when you jiggle her.
I am in love.
I have also broken my Technorati tag plug-in in Live Writer. Aargghh!
posted by Kate @ 12/07/2006 06:43:00 PM

1 Comments:
Post a Comment
<< Home