Sunday, January 14, 2007
Snowplay
It warmed up to 17 above zero by noon (one of the lovely things about living in the Southwest--in Chicago, if it's -18 at 8:30 a.m., it's likely to be a toasty -8 as a high for the day). We loaded up the skis and the sled, and headed out the back end of Hippy Dippy Enclave in the Woods to play in the snow.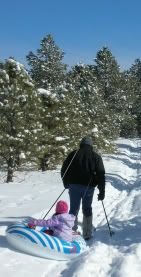 OmegaDotter had her skis on for all of five minutes, then decided she didn't want to ski, but to be pulled in the sled. To the left, OmegaDad as beast of burden.
We skied up the hill, found a nice dry stock tank with steepish slopes, and proceeded to make a good sledding run.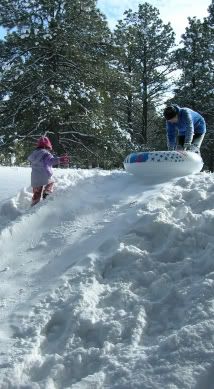 Mom and the Dotter at the top of the sled run, to the right: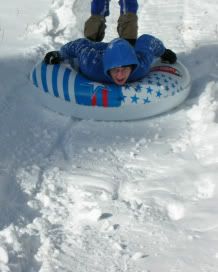 Mom heading down the sled run, to the left.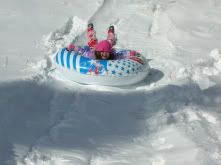 OmegaDotter on her way down: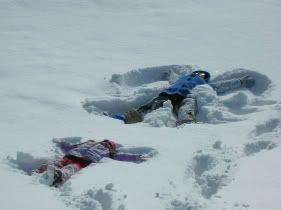 Mother-Dotter snow angels.
We had a grand time. The skiing was, as always, excellent exercise, and the sled run--though essentially a bunny run--was steep enough so we picked up some speed on the way down. The Dotter enjoyed the snowplay, but by the time we headed back, her little knit gloves were iced up, her pants were soaked through and had huge lumps of packed snow on the hems, and she was tired and cold and just wanting to be home.
So OmegaMom has a shopping list for the dotter: the previously mentioned silk long johns, some polartec gloves and socks, and gaiters. If El Nino actually keeps up, we may have more snowplay in the future!
Technorati: Snow
posted by Kate @ 1/14/2007 04:59:00 PM

4 Comments:
Post a Comment
<< Home