Sunday, August 20, 2006
The window to a woman's soul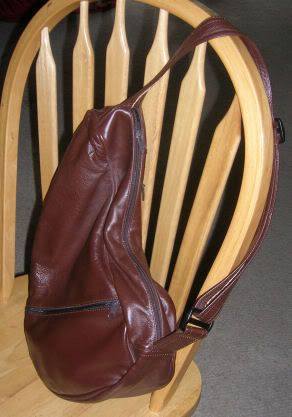 I have a post bubbling around in my brain about a kerfuffle in the adoption blog world. But I'm finding it quite hard to solidify my ideas, what I want to say, how I want to present it.
So, I will avoid the entire issue right now.
My NOTI blog ring is doing a post challenge every two weeks, and the latest biweekly topic is The Purse.
To the left, you will see my current purse. This is a knock-off of the uber-trendy sling purse, which I purchased while in Taos a few years ago from a Mexican tchotchke shop. It's leather, has a slew of pockets on the outside and inside, and I carry it everywhere (unless I'm going on a hike or touroning about, in which case I use my block-like bright blue fanny pack).
There are some women to whom purses are a fashion accessory--they have a closet full of kicky purses in a variety of colors and styles, and pick one out each morning like they pick out their blouse and slacks and shoes. There are days I dream about being a woman like that, because to me it implies that they are traveling light. No schlepping about of large amounts of detritus--lean, mean purse machines.
My purse, alas, is like my house: cluttered.
We start from the outside.
In one pocket, I have: Two sets of keys. To what? I'm not sure. (Okay, after examining them, I see I have a key to OmegaGranny's house, the key to our old SUV, which has long since been sold, a key to the locks on our luggage set, and multiple incarnations of the keys to the offices at my job.) Two unbroken crayons and two broken ones. The ID card for my job, which I never wear. A heap of pennies. An old ticket. Various receipts for various purchases, ATM receipts, and an old shopping list.
Moving on to another pocket: Membership agreement to the athletic club for summer swimming. Remnants of an old checkbook. New checkbook. The key code for our 18-year-old Subaru. More receipts. K's mom's name and address. "Admit one free" to a circus that was here in town at the end of May. Another key to some place at Small Mountain University. Two pens. A pen cap. Daycare receipt (whoops! Into the tax file that goes!). My wallet. More coins. Leftover ticket stubs from the Society of Geeky Gals' last theatre-going season.
Pocket #3: Pocket comb with broken teeth. A token from a place called Vista Taos, with the quote, "Being hard on ourselves is easy. It's being gentle with ourselves that's hard" on it. This last is very important to me and OmegaDad.
Moving to the main compartment: Yet more keys! OMG! What am I doing with all these damned keys?! A pair of gray-green socks. A recipe for Cream Wafers. A pill bottle with aged phlegm-inducing pills. Receipt from Discount Tires. Old pics of OmegaDad's ulcers. Xeroxes of old daycare receipts. A sticky-note with the word "Assessment" on it. Another with "For Kate" on it. Notes for the database class I taught this spring. A packet of bluebell seeds. Notes from an aborted plan to refinance our mortgage. Printout of Kohl's kids' foot size chart. Recipe for pumpkin bread. Old hotel room card key. Old insurance claim information.
Lest you think this is unusual, I put forth memories of my childhood as evidence. I remember my mother's ceremonial cleansing of the purse; this took place every few months, and usually yielded a similar list. What can I say? It's obviously genetic. (Of course, it could also be seen as evidence of nurture, rather than nature--having been raised by a woman whose purse was seen as a depository could be what has made me what I am today.)
As a result of this exercise, I am depositing 92 cents in the change jar, putting K's mom's info on the fridge, putting crayons into OmegaDotter's crayon zippy, tossing a boatload of old receipts and the phlegm pills, filing the recipes in the recipe file, and putting the pair of socks into the sock drawer.
For some different takes on the purse subject:
My purse collection
Pursing or Backpacking?
Louis who?
10 percent - Woohoo, Shrinking Mommy! Way to go!
Basic Black
Vinegar Martini's take will have to wait--she's having the irritating BlogSpot "vanishing blog" effect again, so I couldn't find the post! Too bad, because hers was (unlike her usual tart take on life) sweet and loving. Update: It's back! The Famous Pink Purse.
posted by Kate @ 8/20/2006 01:13:00 PM

3 Comments:
Post a Comment
<< Home