Wednesday, July 05, 2006
First Fourth fireworks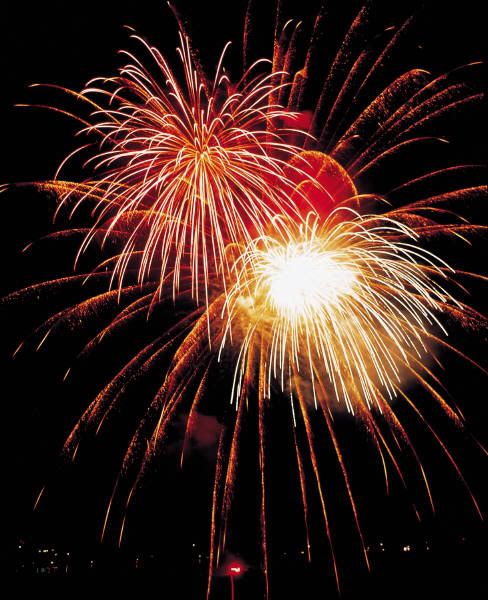 On the fourth, we trekked down the mountain to OmegaGranny's house and cooked a traditional Fourth of July meal: New York steaks, baked potatoes, and a whole mess o' fresh beets and beet greens from the OmegaGarden. Okay, if you're from a
HOT
area, I know the idea of baked taters on the Fourth of July is...unseemly, to say the least. I would never suggest it in, say, Chicago or Orlando or Phoenix. But it's Monsoon Season now, with thunderstorms every day (yay!), and up in the mountains, things are
cool
. Ahhhh. Today's high, for instance, was 71F where we live; the high yesterday in OG's area was 81F, and that was in the morning, long before we got there. The clouds blossomed to full size by the afternoon, it rained, and it was lovely and pleasant there. So. Baked taters it was. For those of you whose only experience with beets is those horrid pickled beets that get hauled out for Thanksgiving and Christmas feasts, all I can say is I deeply sympathize. OmegaDad, for instance, before I met him, had the culinary background of an Okie. When he was growing up, veggies were either boiled to death or straight from cans or else deep-fried. Beets were, as mentioned above, something that was canned, pickled, and served on holidays only. Fresh beets straight from the garden, with beet greens lightly cooked, all served with a touch of butter...this...this is one of the Foods of the Gods. Really. So I introduced him to the concept, and he likes it. Well, at the very least, he indulges my yearning and plants beets in the garden each year, and will actually eat two servings of B&BGs at one sitting. The dotter, however, couldn't be tempted to try them last night. Maybe next time. After the fixin's, we dithered. Should we do the fireworks or not? Dare the crowds or not? Would the dotter be awake enough or not? Would the noise scare her or not? Dither, dither, dither. This is what OmegaDotter looked like at about 9 p.m.: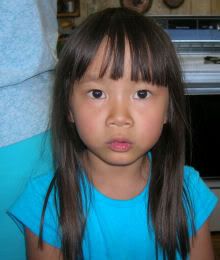 Tired is the word for that look. Puffy eyed. Wanting to go home. So our plan was to drive out to where the fireworks were being held, check out the crowding scene away from the park where the 'works are actually fired off, and decide then. We drove out, scoped the scene, found a parking area off the highway near the park, where lots of people had parked, found a spot, and waited. The dotter, by now, was
extremely
tired: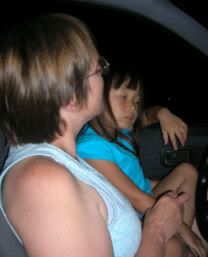 BUT! We shuffled things around, she woke up, and "Fireworks?!" was the siren song: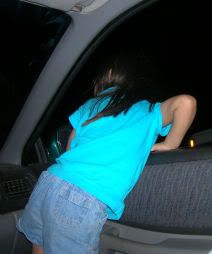 I hear there are fireworks here?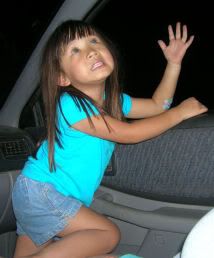 WHERE are those gosh-darned fireworks?!
And then they arrived, and she was delighted--and then distracted: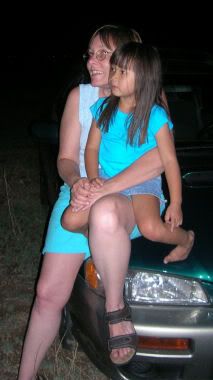 Ooooh!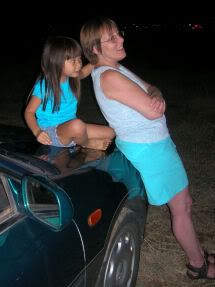 Ahhhhhh!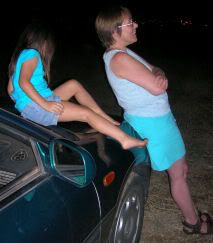 What made that noise?!?
(Alas, we have no photos of the real fireworks; the pic up above is Micro$oft clip art. OmegaDad loves to take pics of the dotter, but taking photos of what's going on around her? Oh, no. I'm trying to break him of that habit, because otherwise the dotter will have only photos of herself, without anything to put it in context.) When we drove off, she fell asleep so quickly that she was gently snoring with her head tilted to one side...and her right arm straight up in the air for the first few miles. It sank down to her side soon enough, and we drove on through the cool, damp night, back up the mountain, to our cozy log home.
posted by Kate @ 7/05/2006 06:19:00 PM

5 Comments:
Post a Comment
<< Home