Wednesday, January 24, 2007
It's creepy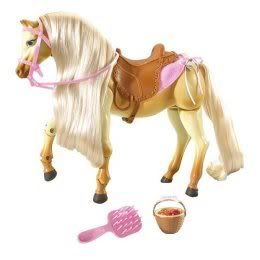 To the left is Tawny.
Tawny is Barbie's horse.
Tawny is also OmegaDotter's horse as of last night.
(Tawny was not too expensive.)
Tawny walks.
Tawny makes galloping noises.
Tawny whinnies.
Tawny's walking and gallopy noises and whinnying are kind of creepy.
Tawny really walks. All by herself. Very nicely on the linoleum floor in the kitchen and hallway. Badly on the carpet in the living room.
But it's still kind of creepy.
OmegaDotter, of course, adores her.
OmegaDotter, who also got a pink rodeo roping rope, has been practicing roping Tawny in the living room, with instruction from OmegaDad. OmegaDad's report from the feed store is that the guy there told him, in a quiet aside, that the only people he has ever seen purchasing the pink rodeo roping rope are guys. Guys with daughters. Har.
Technorati: Tawny
posted by Kate @ 1/24/2007 09:57:00 PM

3 Comments:
Post a Comment
<< Home