Tuesday, October 17, 2006
Days of BSODs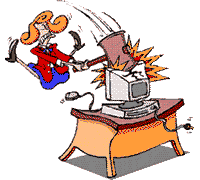 My work computer is ill, severely so. It began with an occasional simple blackout of the monitor. I'd be working away, creating queries, writing something up, composing an email, and *poof* the screen would go black. Moving the mouse would bring up a "No Signal In" message. This would require me to march over to my UPS, unplug the computer, replug it, return to my desk, turn the computer on, and strive to recreate the query, timeless prose, or goofy joke I was working on at the time.
Then it escalated into an occasional BSOD.
(For those who don't know, BSOD is the Blue Screen of Death.)
Then it started happening multiple times per day.
My computer was set to restart automatically after a BSOD. Even after I changed that setting, so that it's supposed to sit there with the blue screen staring at me, it continues to automatically restart. Thus, I don't even get a chance to see what exactly is going on when it BSODs.
We've swapped out the video card. We've swapped out the monitor. We've rolled back to the Windows version prior to Oct. 6 (Small Mountain University pushes forced Windows Updates through to all on-campus computers).
It blanked out and BSODed twice while I was manually updating the system.
This is what I want to do to that computer...
Technorati: BSOD, computer trap shoot, argh
posted by Kate @ 10/17/2006 10:52:00 PM

7 Comments:
Post a Comment
<< Home