Sunday, July 09, 2006
A game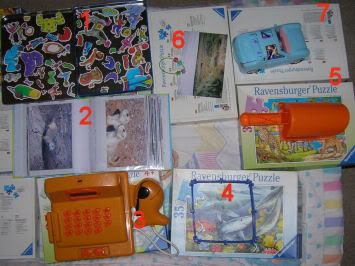 A Game...Designed by OmegaDotter
1. Select a magnet
2. Look at the prairie dog pictures
3. Push a button on the cash register
4. Jump in and out of the corral
5. Hide in the "barn"
6. Look at the horsie picture, then jump through the hair doo-dad
7. NOW you can drive the car back and forth!
Do this many, many,
many
times. (Where are the puzzle pieces? Do
you
know? We don't! But empty puzzle boxes can be used in
many
different ways!)
posted by Kate @ 7/09/2006 09:24:00 AM

2 Comments:
Post a Comment
<< Home