Thursday, June 15, 2006
Break a leg!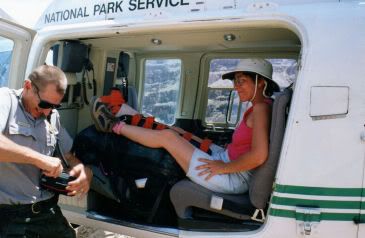 See those nice long sleek exercised legs up above? Those were mine, once upon a time. Sigh. Nowadays, my legs are pudgy. They have lots of cellulite. I hadn't realized just how much they had deteriorated until
OmegaGranny
sent me a scan of this, along with four others, and suggested I blog about them. It just so happens that this is an anniversary of sorts, related to that pic, soooo... Eleven years ago, OmegaDad got a job that entailed 10 days in the field, six days off, exploring Lake Mead National Monument and Grand Canyon National Park. While it was exciting and fun for us that he had this Awesome! Job! getting paid to go out camping and hiking and river rafting, the first time he went out after we were moved, I spent the first few days crying. We had been joined at the hip for two years at that point, and I missed my Mr. OmegaMom fix most severely. The six days off, though, were faboo--we would go out camping and exploring and he
still
had time to relax after the field work, clean all his clothes, gear up for the next field stint,
and
romance me. Ahhhhh. It was, actually, quite a sweet setup. Most of the time, those 10 days he would be with another field worker. But there came a time when he was going out in the field alone, ten years ago. Being a worrier, I worried. What if he fell off a cliff? What if more than two of his tires blew out while he was out driving on
malpais
, dreadful backroads made of volcanic rock that rip your tires to shreds? (They always kept two extra tires with them when they traveled, and two jerry cans of gasoline.) At the time, we were living in a small town, and the jobs were few and far between. I was unemployed. He was traveling alone. Why not sign up as a volunteer and go out in the field with him, thus calming my fears of vultures flying above a dessicated dead body at the bottom of a cliff? So he arranged things and I signed up as an Official Earth Team Volunteer. This means I got a mug. But it also meant I could go out with him in an official capacity; I couldn't be with him otherwise. The first trip out, we spent scouting out some new areas for him to do his fieldwork. We drove here and there across the Arizona Strip, an amazingly empty spot of land that has a population density--still--of about 1 person per square mile. We saw approximately one other car each day the entire week we were there. The result of the sparse population is that when you encounter another car on the road, rather than just driving to each side and passing on, you stop the car. You get out. You chit-chat. It's very impolite to
not
stop, and people will remember your vehicle and talk about you when they run into each other on their trips to more densely populated areas (1-10 people per square mile). We camped at
Paws Pocket
, an area of lovely layered sandstone, with
red penstemon
blooming, awesome views, and hawks flying overhead. We showered in the middle of the day out in the middle of a broad expanse, realizing only after we were happily spraying each other with the Sun Showers heated on the hood of the car that a helicopter was flying overhead. Oh, well. We spent the night at the Mt. Dellenbaugh fire station one night, then drove out on Twin Point and sat on the edge of the canyon with no guardrails, no high-heeled touristas, no park signage, just an endless expanse of canyons in a 180-degree arc. We tried the road to Kelly Point, but it is a real killer, and my kidneys weren't up to it. When we returned, we agreed it was a great plan, and we should do it again, especially since he was about to go to
Whitmore Canyon
and
Parashant Canyon
, very remote areas. We would camp at the top of the foot trail down to the Colorado River and then the next morning head down the 700-foot drop, where he would do some of his fieldwork. Tomorrow: Two snaps!
posted by Kate @ 6/15/2006 06:19:00 PM

0 Comments:
Post a Comment
<< Home