Monday, January 01, 2007
Pottery, willow, leather
The end of 1997 was going well. After a year's worth of attempting to find a job worth having in Prescott, and working as a temp at Small County Justice Court, entering traffic ticket information into the computer system, I finally broke down, contacted a technical contracting firm, and immediately got a job down in Phoenix.
This led to some interesting logistics: OmegaDad was going one way every Monday morning until Friday afternoon, and I was driving the other way. I spent the weeks down in Sun City with my grandmother; he spent his weeks out in the field. We joined together on the weekends.
The money was munificent. When mid-November rolled around, we eyeballed our bank account and realized we could take A Vacation! Woot!
We decided we'd head out to California to see my horde of fun relatives at Lake Tahoe for New Year.
As we discussed it, a light bulb went off in my head. Just like all those cartoon strips. Really!
Or more like those Judy Garland/Mickey Rooney movies, the ones where one or the other says, out of the blue, "I know! Let's put on a show!"
In this case, the lightbulb moment was, "Hey! OmegaDad! Let's get married while we're there!"
We had originally planned to get married five months after I moved in with him, in May 1995. But two months before the wedding, spurred by a call from my eldest brother (do not ask me how it happened!), I blurted out on the phone, "We're cancelling the wedding." Something the bro had said somehow keyed in to all the angst I was feeling about the whole idea then, and my fears surged to the fore, and boom the wedding was cancelled, just like that.
We're talking I had the wedding gown made already, we had rented chairs and tents and stuff, and were on the verge of getting invitations sent out.
Um.
What can I say? I took marriage very seriously, and was still freaked out that I was living with someone, let alone planning a wedding. And, being an immature twit, I was still resentful of being stuck in (boooring!) Lubbock, TX, instead of living in (beee-yoo-tiful) San Francisco. Mostly, though, it was Fear, with a capital F, of committing myself to this weird, scrawny Okie who had stolen my heart.
Somehow or other, OmegaDad was amazingly calm and understanding about the whole affair.
Anyway, fast forward those two years...and there I was with this lightbulb going off in my brain:
"I know! Let's put on a wedding!"
OmegaDad, no dullard, seized the moment and said, "You betcha!", or words to that effect.
I arranged everything on the internet: the wedding chapel, the plane tickets, the officiant, the flowers, the cake. By the end of the week, we had called all & sundry and informed them.
Unfortunately, since we realized that it would be difficult for folks to get plane tickets and lodging and suchlike, we couched our phone calls in a "If you can't make it, we'll understand" manner. This translated to a bunch of folks as "We don't want you there." I am forever horrified by this miscommunication and saddened that, as a result, many people who we would have been delighted to have join us didn't come.
But. In the end, our very small wedding went off without a hitch (except for my maid of honor not being able to make it, and never contacting me again). We flew out to Reno, drove to South Lake Tahoe, met up with aunt and uncle and myriad cousins, got dressed up, signed the papers, had a lovely little reception in a nice restaurant at the lakefront, and greeted the first night of 1998 as Mr. and Mrs. OmegaDad.
Happy anniversary, OmegaDad! It's been an amazing nine years!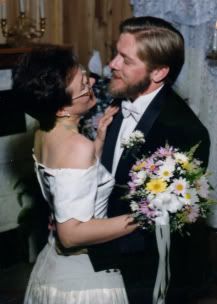 Technorati: Anniversary
posted by Kate @ 1/01/2007 01:24:00 PM

5 Comments:
Post a Comment
<< Home