Saturday, September 16, 2006
There's a couple of books I want to get...
One is called "Your Four Year Old: Wild and Wonderful", the other is "Raising Your Spirited Child". The latter, by the way, was recommended to me by our pediatrician when the dotter was two years old. Hm. At the time, I was kind of huffy; now I'm wondering if the pediatrician is some type of psychic or something.
I foolishly crowed in an email to some friends that we had a small victory this week:
This morning, the Dotter was in a clingy bad mood. I was in a bad mood myself because we all woke up late. This combined to a now-rare (yay!) tantrum, which ended with me scooping her up barefooted from the driveway to plop her in her carseat and continued in the car for a while.

BUT!

The small victory is that this evening, when OmegaDad picked her up and was driving her home, she told him, "Daddy? I made a fuss this morning." (Daddy already knew.)

All on her own, no prompting.
Hah. Famous last words. Today has been Tantrum Central. Sigh. I'm guessing it's yet another developmental spurt making its way out.
So, to remind myself that, in tandem with the tantrums comes Good Things, a gratuitous pic of the Dotter enjoying herself on our recent trip: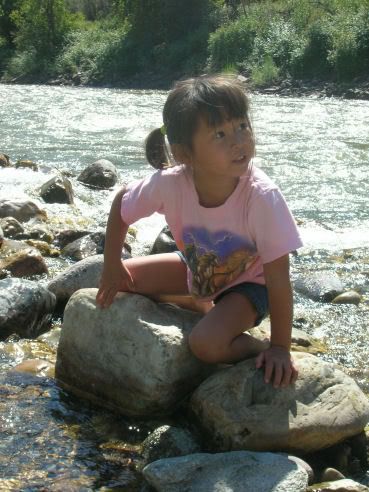 Technorati: preschoolers, tantrums
posted by Kate @ 9/16/2006 11:17:00 PM

3 Comments:
Post a Comment
<< Home