Thursday, September 14, 2006
Grandma's attic and other memories
When I was a wee lass, one of the more fun things to do was to climb up into Grandma W.'s attic and rummage around in there. There were dusty old lawyer's bookcases filled with ancient books (a complete collection of Charles Dickens, which now sits in my glass-front cabinet)...old sea trunks from Great-Grandpa W.'s seafaring days filled with things like old broken wind-up pocket watches (with chain)...old family diaries and journals and letters...and in one trunk was an entire collection of old handmade costumes and party dresses from when my Aunts and father were little girls and boy.
The neighborhood kids and I would raid that trunk over and over again, playing dress-up.
Two of the dresses I had in my possession for many years: a pink silk taffeta springtime dress with ancient faux posies, with a pattern of tiny flowers dusted across it, and a bronze colored silk taffeta dress with a looooong brown velvet sash. Both were, of course, floor length.
The costumes were equally grand, but the only one I remember was a Harlequin. Alas, the remaining dresses and costumes are only dim memories for me, and have long since gone to collect dust Somewhere Else, if not put into the landfills, sigh.
At Grandma G.'s, we had one dress leftover from either OmegaGranny's childhood or GreatGrandma's childhood, a green taffeta (also floor length) with a second netting skirt over the taffeta skirt. Having no other fancy dresses to play with, my cousins and I would fight over who got to wear the green dress, with the losers being consigned to wearing some of Grandma's fancy nightgowns, which draped very splendidly.
GreatGrandma still has pictures of the three of us all posed in the dress-up costumes, fading Polaroids with three long-haired, gap-toothed girls of stair-step height.
I was at Target the other day, wandering the Halloween costumes and girly dress-up aisles. (I'm sure OmegaDotter has plans to be the horsie again this year, although I fear the costume is too small for her now--besides, it is covered with cat hair and dirty from last Halloween and dusty from being pulled hither and yon around the house.) Seeing the costumes made me kind of sad; I remember OmegaGranny making me costumes or helping me come up with impromptu ones using grown-ups clothes and various scarves and jewelry around the house. One particularly memorable costume was when I was about the same age as OmegaDotter: Mom sewed me a Cat-in-the-Hat hat, dressed me up in black leotards and tights, created a long black tail and sewed it to the seat of the leotards, and I went out as the Cat in the Hat...complete with a small stuffed black cat to put on my head underneath the hat.
So in a wonderful confluence of events, today's mail brought the catalog from the Wooden Soldier. I glanced at the cover before eagerly diving in, and lo and behold, they now have a website! (LizC will be delighted to know that one can get the pony dress and legging set for one dollar less! than the site her friend sent her; Carol Anne will be happy to know that they have Scotty stuff, too.)
The Wooden Soldier is a heaven of girly-girlishness. It makes my "I want to dress up!" side come roaring to the fore; of course, since I can't fit into any of the dresses, I displace it onto OmegaDotter. I'm still not very likely to spend upwards of $150 on one dress that the dotter will fit into for all of six months (thus ensuring she can't wear it for more than one season). But oooooh! (SQUEAL!) How I wish that we lived in a time or a place where fancy dress-up parties for kids was the norm.
Feast your inner girly-girl: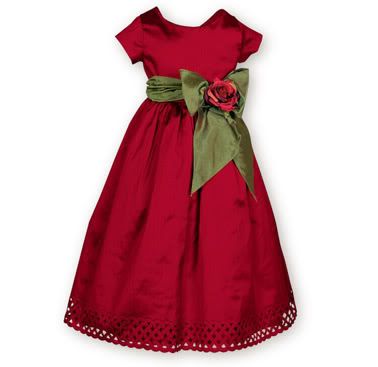 This one, if it were bronze and didn't have that oh-so-cool latticework on the bottom, would be like my bronze one with the velvet sash.
The pale blue ones are reminiscent of the green one described above.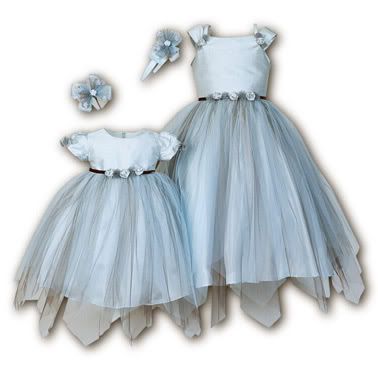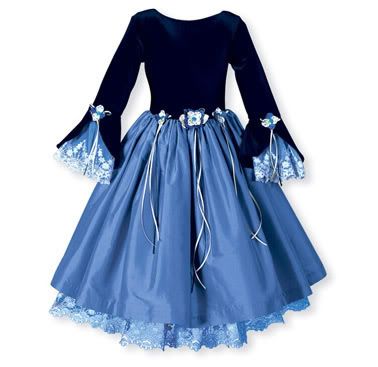 And this one just tugs at my inner romantic, the one that always loved sleeves that did that sweeping open droop over the hands. You can imagine wearing it and having Errol Flynn (showing my age) or Johnny Depp leading you into a ballroom, or giving you a passionate kiss on the palm of your hand, then leaping over a balcony railing directly into a swordfight.
Technorati: Wooden Soldier, girly-girls, Halloween, dress-up, costumes
posted by Kate @ 9/14/2006 07:17:00 PM

2 Comments:
Post a Comment
<< Home