Monday, May 08, 2006
For less than the cost of a tank full of gas
...I purchased OmegaDotter her very first bike at lunchtime at The Evil Empire (WalMart). Y'see, we had been out-and-about this weekend, including hauling the tricycle out of the bedroom, and going for walks. The problem is that the dotter has grown an awful lot since last fall (we are now on our
third
size of bluejeans since September!). So there she was, on her tricycle, and her knees were hitting the handlebars, when they weren't up around her ears. This bike is purple and pink and aqua. Oh-so-girly. Sigh. You can either get a very girly-girl bike, or a very boy-boy bike, but nothing that's in between. I stashed the bike in the back of the Little Green Car. There was no way on earth that OmegaDotter was going to miss it...But I told her, when I picked her up at daycare, that I had "a surprise" for her. Har! She was so fixated on the idea of "a surprise" being something small that
she didn't even look in the back of the car
! So I was able to grab the camera and record the event for posterity (and the blog and the scrapbook): A surprise? For me?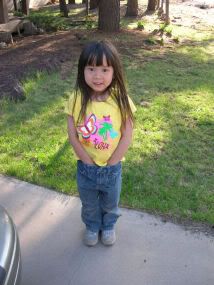 Ooooh! A bike!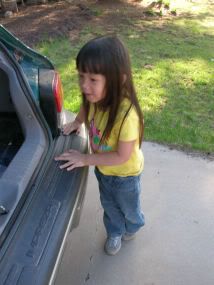 After a wobbly start, she was going...going...gone: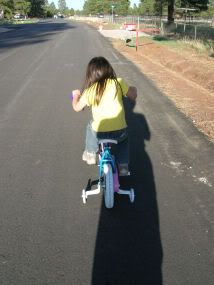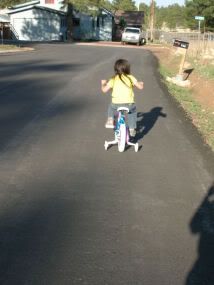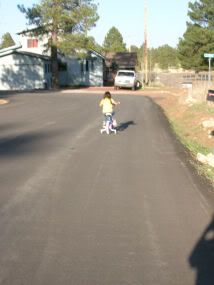 As requested by a friend--"hair blowing in the wind":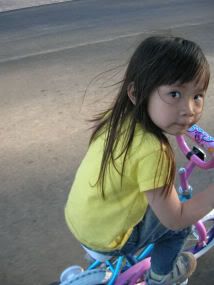 And the very happy OmegaDotter, admiring her new bike: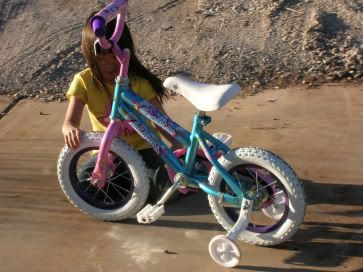 For those who worry--Yes, she now has a helmet. Yes, she has various padded devices to keep the knobby parts safe. But. The helmet is too big. The various padded devices are too big. We're going to have to work on this, I think. Her tiny hiney is matched by other tiny parts, even though she's grown tall enough to actually fit into size 4, so long as it's an adjustable-waist size 4. The dotter is not very used to the idea of pushing back on the pedals to stop. And the bike, when going down small hills, Goes Too Fast. Just one more step on the "my little baby is growing up" sob story.
posted by Kate @ 5/08/2006 06:42:00 PM

7 Comments:
Post a Comment
<< Home