Sunday, May 28, 2006
Birth of a blog and other stuff
OmegaGranny
hath a blog
. Stop by and say "Hi!". She's been threatening to start one up for quite a while (OmegaMom sits and taps her fingers and says to herself, "What's taking her so long?!"). First there was trying to figure out how to use OmegaGramp's antiquated digicam. Then there was trying to figure out how to work Blogspot. But now she's up and running.
---
"Tutling", according to the author, who very graciously responded to my forlorn definition-seeking email, was a made up word based on "tutoring", which makes sense in the context. So, I would suppose it's pronounced "toot-el-ing", rather than "tut-ling", as I was mentally hearing it. He says he was reading
Mrs. Byrne's Dictionary of Unusual, Obscure, and Preposterous Words
at the time he was writing the book.
---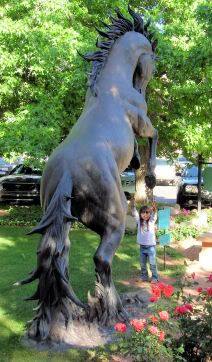 OmegaDad took the dotter off to try to catch tadpoles yesterday. They ended up going to a fish hatchery and then to Extremely Trendy South western Tourist Town instead, where the dotter became enamored of the 16-foot-tall, $75,000 bronze horse sculpture. We did not, needless to say, become owners of said sculpture, though it is quite grand.
---
OmegaMom sent them off on their own because she had been seized with the Urge To Clean. This is quite rare. When the Urge To Clean arises, OmegaMom must grasp it with both hands. This time, the UTC included getting out the Suck Machine. What, you ask, is the Suck Machine? It's a Hoover SteamVac. Very handy when there are grotesque spills on the carpet--
if
you catch them in time. Alas, we often don't. Anyway, yeah, after much neatening, straightening of piles, sorting through piles, dishwashing, clotheswashing, tossing things out, and vacuuming, I took it that one step further. For about, oh, 150 square feet of our 576-square-foot living room. (Don't get jealous--none of the other rooms in the house come even close to that size, but it's a very nice big room.) Anyway, while the Suck Machine has its virtues, it has one drawback: it cleans carpets in rectangles. And if the brush isn't quite fluffed properly, those rectangles are actually kind of stripes. So now we have 150 feet of the living room carpet that are striped--one stripe clean, the one next to it not so clean. Sigh. Sometimes it's just better if I don't give in to the Urge To Clean, because I often get minor disasters like this happening as a result. Merry Maids and a professional carpet cleaner with a BIG Suck Machine with round rotating brushes would do a much better job.
posted by Kate @ 5/28/2006 01:36:00 PM

0 Comments:
Post a Comment
<< Home