Saturday, May 27, 2006
Oooh, that's purty!
Got this from
Pharyngula
. It's a graph of the OmegaMom blog. (I suspect it's showing me that there's some bad HTML in the template, sigh, which would cause those extra skinny lines linking a few of the cute little flowerbursts to each other.) Not only is it a purty picture, but it's a neat use of graph theory, a neat visualization of HTML parsing, blah, blah, blah. And it's damned fun to watch being created. Go
here
. Pop in a website URL. Watch a thousand flowers bloom.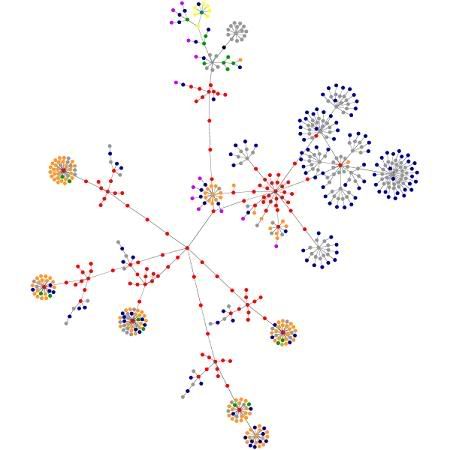 blue
: for links (the A tag)
red
: for tables (TABLE, TR and TD tags)
green
: for the DIV tag
violet
: for images (the IMG tag)
yellow
: for forms (FORM, INPUT, TEXTAREA, SELECT and OPTION tags)
orange
: for linebreaks and blockquotes (BR, P, and BLOCKQUOTE tags)
black
: the HTML tag, the root node
gray
: all other tags
posted by Kate @ 5/27/2006 10:43:00 AM

2 Comments:
Post a Comment
<< Home