Sunday, March 26, 2006
Dough. Mess. Ticity.
Mr. OmegaMom is on a sauce-making rampage this weekend. He hauled out his Martin Yan "Chinese Cooking for Dummies" cookbook, made a list, checked it twice, then spent all day today with OmegaDotter, cooking dipping sauce, mustard sauce, teriyaki sauce, chili oil, master sauce, and black bean sauce. So we now have a lifetime's supply of sauces.
---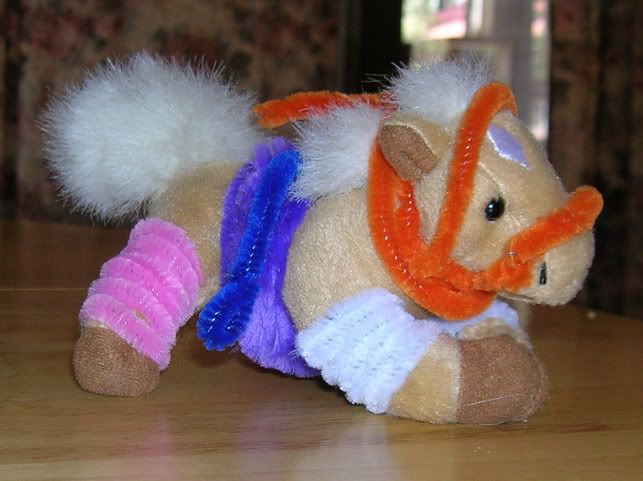 OmegaMom spent the morning doing (what else?) horsies. First, there was the small floppy magnet-footed stuffed horsie that OmegaDotter kept requesting new accoutrements for. There's the orange pipecleaner bridle and reins. The bright blue stirrups. The purple saddle. The white and pink legwarmers. Legwarmers?? Hey, don't ask me.
I
am not the horsie person here. Anyway, the picture is of a horse, though it bears a striking resemblance to a squirrel. In addition, we brought out the acrylic paints and spent many hours painting stenciled horsies in a rainbow of colors. Pictures forthcoming later.
---
The Omegas went to the 100-day party for the son of our new neighbors. S. is in one of OmegaDad's sustainable living courses. The advantage of living in Hippy Dippy Forest Enclave is that the people who live here tend to be interesting. S. and J. and all their friends sport various tattoos and piercings, and are into vegetarian cuisine. OmegaMom stuffed herself on
dolmas
with curried rice and raisins, tabouleh, non-wheat spaghetti with the
most
awesome spaghetti sauce, and vegetarian chocolate cupcakes to die for, and now has a goal of gathering the recipes for each yummy goodie. The 100-day ceremony was non-standard as well. We managed to get a book, a pen, a toy piano on the cloth, but then folks just started contributing items. When T. reached for and grabbed the maraca, after much discussion, it was decided that T.'s future includes musicianship, specifically, either a career in a mariachi band or as a rock drummer.
posted by Kate @ 3/26/2006 06:09:00 PM

2 Comments:
Post a Comment
<< Home